Temple Kinyon is an author and freelance writer living in Las Vegas, Nevada.
Youth and Education:
She spent her first three decades of life in Idaho, where she grew up on a wheat farm in Potlatch, Idaho. She attended the University of Idaho (U of I) and received her Bachelor of Science in Communications/Advertising in 1993.
Early Work History:
While a student at the U of I, she worked as Assistant Newsletter Editor at Facilities Management, where she learned the ins and outs of campus and deepened her affection for the institution and rolling hills of the Palouse. After graduating, Temple worked in the real estate and hospitality industries, enhancing her marketing and communications experience before returning to her alma mater in 1997 to work at the University of Idaho Alumni Office as the Off-Campus Events and Volunteer Manager. In this capacity, she met Scott Green, an alumni chapter volunteer from New York, who she later collaborated with on her second book.
Temple went on to work at University Communications and Marketing at the University of Idaho as production coordinator in 2002. Her love for the institution has never wavered, however, even when she and her husband, Chad, relocated to Las Vegas in 2003. Temple worked at the University of Nevada Las Vegas in the President's Office as the event manager and became a certified barista for Starbucks.
Writing Career:
Her dream of becoming a published author came to fruition when she jumped into a full-time freelance writing career in 2012. She became a contributing writer for BLVDS LV Magazine in 2014, where she also landed her first editorial assistant position.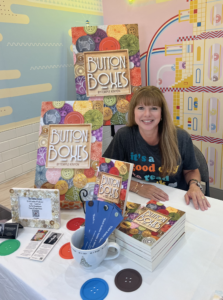 She published her first book, The Button Boxes, in 2019, and her fiction and non-fiction contributions have appeared in Home & Harvest Magazine and Idaho Grain Magazine.
Temple considers herself a nostalgia writer; her childhood experiences continue to offer an unlimited supply of anecdotes for her varied writing projects. Writing magazine articles and books are her passions, but she also works as a freelance copywriter and editor and occasional writing mentor to young creatives. As a proud University of Idaho Vandal, she is honored and humbled to be co-author with C. Scott Green of her second book, University President's Crisis Handbook.
P.S.:
Temple firmly believes in persistence, pursuing dreams, full-circle moments, living an effervescent life, and using the good China for pizza dinner. She lives to work but only if there are "Workations" at the "shocean" involved. When she's not writing, she loves to craft, and…big surprise…read.